Sew a special and unique gown for your prom! Below are patterns and ideas to inspire you!
The Ruby Dress
Sew a lovely dress like this one with the Ruby Dress.  It is a simple silhouette – just a high neck bodice and a circle skirt.  Your options are unlimited with this pattern! There are a few different patterns for the same shape of dress.
For a look like this one:
Use beaded fabric for your bodice (or lace)
And layer chiffon over satin for the skirt.
Lengthen the skirt – Prom dresses are usually floor length.
The Circle Skirt Calculator post might be helpful to sew the skirt.
Krikor Jabotian Dress
The eBook to create this stunning gown is available at Corset Academy.
The book comes in PDF format for immediate download. 654 pages, 1400 illustrations. ALL SEWING PATTERNS INCLUDED! After completing this tutorial you'll truly become an expert!
And the best part is – it's much easier than it seems! Just follow step-by-step instructions and the results will amaze you!
There is a membership fee to access Corset Academy premium content, but you can try it for FREE.
Plus Size Formal Dress
This Plus Size Formal Dress Pattern is for a charming and flattering dress.  The cut of this dress emphasizes the waistline making you look slimmer and features soft pleats on the front panel of the skirt that will camouflage a small tummy. This model is suitable for all body shapes.
Lengthen the skirt pattern to floor length.
Straight Strapless Dress with Waistband
This beautiful gown has a straight, strapless neckline with the floor length skirt and a waistband to accentuate your figure.  Sew this dress with the pattern published in the Spanish website Moda Facil. The pattern is available as a FREE download for 10 different sizes.
Tanik Ediz Inspired Dress
This Evening Dress Pattern is for a long dress with a high neck, mermaid cut skirt and has some pretty lace details. This design was inspired by a dress designed by Tanik Ediz. The mermaid cut is a typical silhouette for his stunning designs.  It is a great pattern for formal activities and it is also perfect as a prom dress.  This dress pattern is available in European sizes 44-54 (14-24 USA Sizes).
Tulip Dress
This stunning Tulip Dress has a deep V neck, a draped waist and a mermaid skirt with pleats on the waist.  You can find detailed instructions to make the pattern in the Brazilian website Marlene Mukai. The page show instructions for Europeans sizes 36-56 (8 to 28).
V Neck Dress
Make a gorgeous gown with this V Neck Dress Pattern.  The shape of this dress is timeless and enhance the bust! This is the most downloaded pattern in this blog and for a good reason.  It can be used for simple dresses but can also be turned into a prom dress with the right fabrics.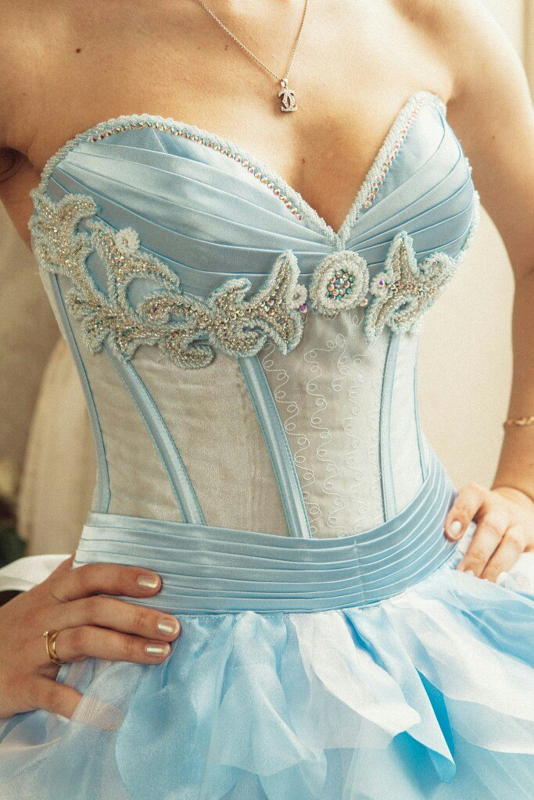 Transparent Corset
Use your creativity to make transparent corset.  You can learn the technique in Corset Academy.  Tatyana have many video lessons in her website including how to create different styles of transparent corsets.  You can also learn how to make cocktail dresses, and even wedding dresses.  Many of the video lessons are free, there are others videos where you need premium access to be able to watch them.
Instead of making a pattern for your measurements, with this technique you start with a pattern made for a perfect figure. Then, she'll teach you how to adjust the pattern pieces to your measurements. With this technique you'll get a well fitted and flattering corset.
You can try the premium content of the website for free for 10 days. During the trial period you can download any of the patterns.
I watched many of the videos and learned valuable corset making techniques.
Spaghetti Strap Dress
The 50s Fashion Pattern from Your Style Rocks can be used to sew a spaghetti strap dress like this one. This is one of those silhouettes that can be used for many different looks.
To make a dress similar to this one:
Use beaded see through fabric for the bodice
Layer chiffon over silk satin for the skirt
Check the Circle Skirt Calculator post for instructions in how to sew a circle skirt.
Wrap Dress with Straps
This wrap dress pattern is for a dress draped on the waistline and a wrapped skirt.  This pattern is available in European sizes 44-50 (US sizes 12-20).
To sew a sexy dress similar to this one, use stretch silk charmeouse and lengthen the skirt.
Bow Tie
And as a bonus here are some patterns to sew the prom outfit for the guys! Sew a button down shirt and a simple bow tie or regular tie.  For boys it is always easier than for the girls – they wear the same traditional outfit in all formal activities! If they wear the same outfit, probably no one will notice.
The tutorial for the simple bow tie was published in So Sew Easy.
I invite you to check my Pinterest board with a collection of beautiful gowns that can inspire you.
Happy Sewing,
Anabelle