Fabric
The fabric of your bag can vary from quilting cotton to leather depending on the bag you are making.  It is important to select a material that your sewing machine can handle. If you have an entry level machine you might want to use lighter fabrics such as quilting cotton and home decor fabrics.
Exterior
Quilting Cotton comes in different prints and can be used for accents, however the bag is not going to be as strong as a bag made with thicker materials.  It is a great option for zipper pouches and small handbags. Some of my favorite designers are Alison Glass, Tula Pink, Cotton & Steel, and Michael Miller. I used Alison Glass fabric for my Half Moon, Harriett, and Eve bags.
Cork fabric has become my favorite material for bags.  It looks luxurious and comes in many colors and patterns.  I used cork for my Sublime bag and as accents in all of my recent bags including Heidi and Sweet pea.
Leather – most high end brands use leather for their bags. It comes in different thickness and it can be dyed with different techniques.  Working with leather is an art by itself.  I've been watcI also usehing Ian Atkinson videos to learn and give leather a try. If you need inspiration to make a bag, take a look of Hermes bags.  They are probably the most expensive bags out there and are completely handmade. This video shows how a Hermes bag is made.
Lining
Satin looks great but it is not easy to work with.
Quilting Cotton is probably the most common fabric for lining.
Premier Prints Slub or Twill are also great options because they don't need to be interfaced.
Online Fabric Stores:
You can buy fabric in the following online stores:
Interfacing and Stabilizers
There are an overwhelming amount of interfacing and stabilizers out there! for bag making these are the ones that I use:
Learn more about bag interfacing in All About Bag Interfacing Tutorial from Sew Sweetness.
Hardware
The Hardware or the bag bling gives your bag a personal touch.  It's like jewelry for your bag. I buy my bag hardware from these stores:
Zippers
You'll need Zippers for your bags! they come in different lengths and sizes.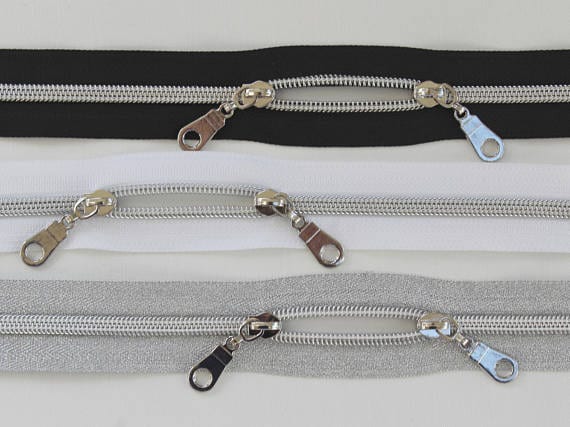 Nylon Metallic Zippers – These are my favorite zippers for bags! they are size #5 with nylon teeth that looks like metal. (you can sew over them).  You can use them with one or two pulls. You can get these zippers at my Etsy Store.
Zipit Store at Etsy offers a huge variety of zippers.
The Zipper Lady specializes in zippers by the yard (if you don't like the nylon metallic ones or if you want other colors).  She has a nice video that shows you how to install the zipper pulls.
Wawak zippers are the cheapest ones I've found. They take a while to ship but their prices are excellent.
Make a Zipper rolls can be cut to the exact length you need for any project,  This are #3 and they are great for the interior zipper pockets.  I like to have them in white and black.
Learning
The best way to learn how to make a bag is by sewing bag patterns.  You can start with one of the FREE bag patterns.  Some of the bag patterns that I like are:
I'm a Craftsy fan! I've taken a few of their Bag making classes and recommend the following:
Betz White also teaches bag making classes at CreativeLive. CreativeLive offers classes in Photo, Videos, Art, Music, Crafts, and Business.  You can buy their classes to watch them at your convenience, but their live broadcast classes are free.  On their page click On Air to display the classes or check their live broadcast schedule to signup for the ones you are interested.
There are also bag making classes at Creativebug. Creativebug is like a Netflix subscription, you pay a monthly fee ($4.95) and you can watch all the videos you want. Try it for FREE through this link.
I hope the bag making resources listed here are useful to you.  If you know of any supplier or store not listed here please leave a comment below.
Anabelle